Just three days after pulling out of the Iran nuclear deal the US has begun to make good on President Trump's promise to increase sanctions against Tehran.
Along with the United Arab Emirates, the US Treasury Department has moved against six individuals and three companies it claims have close links to the Islamic Revolutionary Guard's elite Quds Force (IRGC-QF).
It said they were responsible for funnelling millions of dollars to IRGC-QF. The Treasury department also accused Iran's central bank of aiding the group, some of which it said were front companies for the Revolutionary Guard based in UAE.
In a statement US Treasury Secretary Steven Mnuchin said: "The Iranian regime and its central bank have abused access to entities in the UAE to acquire US dollars to fund the IRGC-QF's malign activities, including to fund and arm its regional proxy groups, by concealing the purpose for which the U.S. dollars were acquired."
The UAE said it had placed the same companies and people on its list of terrorist organisations doing business with the IRGC-QF.
On Tuesday President Trump announced that the US was pulling out of the 2015 Joint Comprehensive Plan of Action (JCPOA) and called it "disastrous" and "one-sided".
The agreement was made by Iran and the US, the UK, Russia, France, China, Germany and the EU to ensure Iran's nuclear programme was "exclusively peaceful".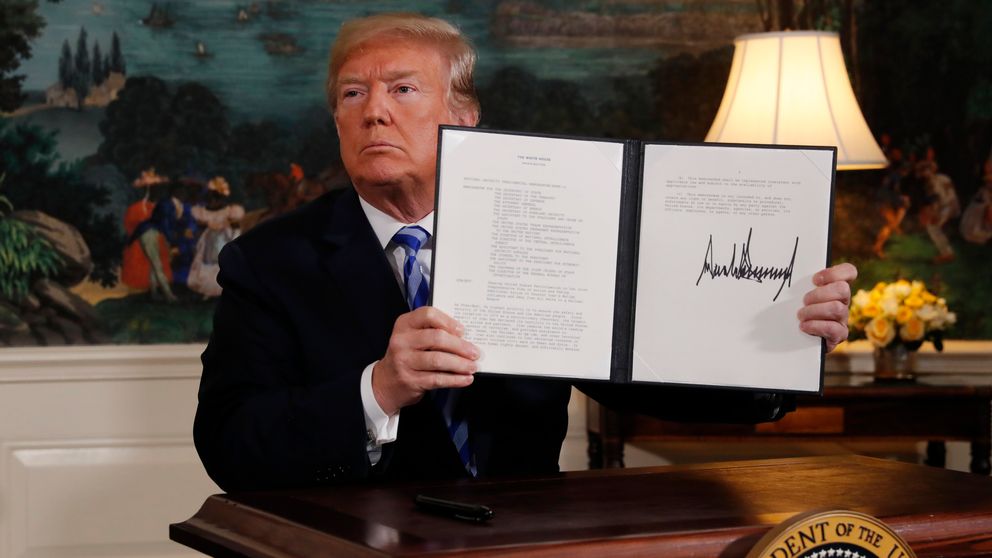 Mr Trump added that the accord – which he described as "an embarrassment" to him "as a citizen" – allowed a nuclear arms race to develop in the Middle East.
He then said pre-existing US sanctions on Iran would be reinstated, telling reporters: "Powerful sanctions will go into full effect.
"If the regime continues its nuclear aspirations, it will have bigger problems than it has ever had before."
It has been estimated that despite sanctions in place prior to the deal, at least $1bn in cash was smuggled into Iran through front companies in Dubai, in the United Arab Emirates and Iraq.